Genuine Mazda Replacement Batteries
The Mazda high-performance battery generates exceptional cold-cranking amps and has reserve capacity ratings that meet or exceed our strict quality and safety requirements, and it's backed with an equally high-performance warranty.
Battery Service From Mazda Roseville
Powerful, Cold-Cranking Amps Every Start, Every Time
Know what really invigorates your Mazda vehicle? Mazda high-performance batteries. To maintain a reliable, corrosion-free battery with lots of powerful cold-cranking amps and reserve capacity, have your battery periodically checked by Mazda Roseville
Related Sections
Need Battery Service?
Contact Mazda Roseville Today
Delaying Battery service can result in damage to your vehicle. Let our service team at Mazda Roseville provide the best possible service for your Mazda.
Schedule Battery Service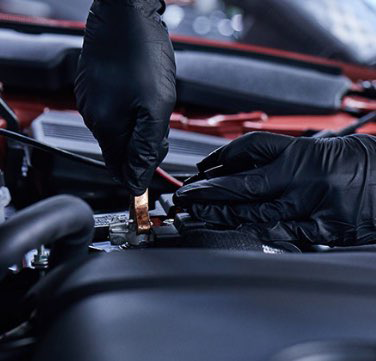 Contact Us
Welcome to the Mazda Roseville website, a fast and convenient way to research and find a vehicle that is right for you. Whether you are looking for a new or used Mazda car, truck, or SUV you will find it here. We have helped many customers in or near Roseville, Sacramento, Citrus Heights, Folsom and Rocklin find the Mazda of their dreams!
We know that prospective customers are extremely well educated when researching their next vehicle. Mazda Roseville has made it easy to get all the available vehicle information so you can spend less time researching and more time enjoying your purchase. Check out our new specials and used specials for additional savings on your next vehicle.
As your local Mazda dealer, we have a huge selection of new and used vehicles from which to choose. Mazda Roseville online and offline customers enjoy vehicle specials every day. We offer Mazda service & parts, an online inventory, and outstanding financing options, making Mazda Roseville a preferred dealer serving Roseville, Sacramento, Citrus Heights, Folsom and Rocklin area Mazda buyers. Ready to set up a test drive? Visit our Sacramento area Mazda dealership in Roseville, CA today!
Mazda Roseville Service Hours

Monday

8:00 am - 5:00 pm

Tuesday

8:00 am - 5:00 pm

Wednesday

8:00 am - 5:00 pm

Thursday

8:00 am - 5:00 pm

Friday

8:00 am - 5:00 pm

Saturday

8:00 am - 4:30 pm

Sunday

Closed
Mazda Roseville Sales Hours

Monday

9:00 am - 8:00 pm

Tuesday

9:00 am - 8:00 pm

Wednesday

9:00 am - 8:00 pm

Thursday

9:00 am - 8:00 pm

Friday

9:00 am - 8:00 pm

Saturday

9:00 am - 8:00 pm

Sunday

10:00 am - 7:00 pm